We are all facing dark times but some clouds do indeed have a silver lining so the lady and I are doing our part to prop up local tourism by spending a night at one of Bangkok's many luxury hotels on the cheap.
The deal is that one can spend a night in a very nice room, enjoy 'executive lounge' access, more on that later, and get a free breakfast for the plumb price of Bt1800 for two. They aren't doing the early check-in and late check-out that some other hotels are offering but it was heavily implied that it would be an option when checking in. There's also a pair of free cocktails at a fancy bar down the road at Em Quartier.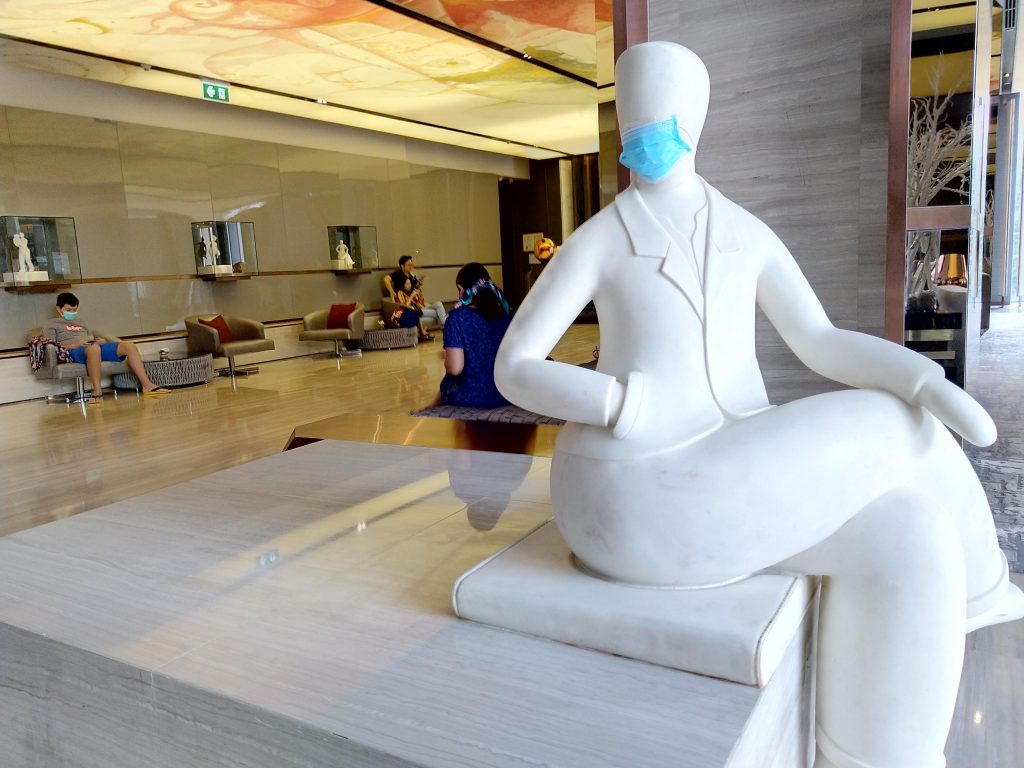 We were greeted by this chap, whose name now escapes me (should have taken notes), who appears all over the hotel in sculpture with his girlfriend. She's French and came to Bangkok with her poodle and hooked up with a well dressed dude from Argentina or something.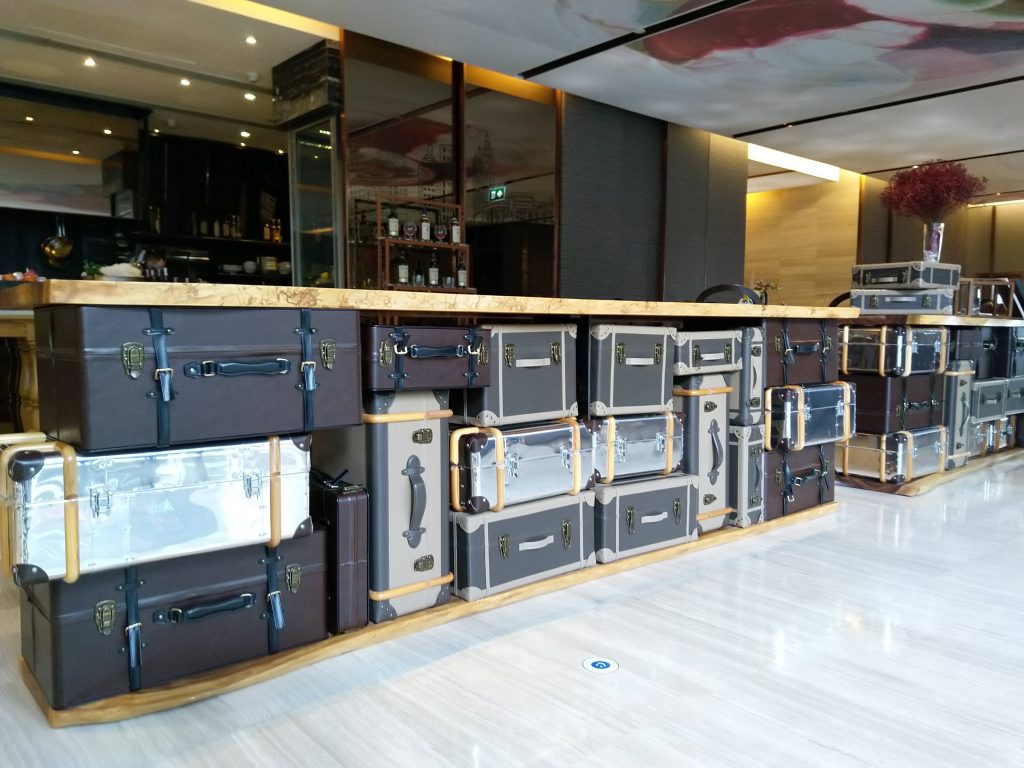 After check-in and an inspection of the room we headed down to the lobby for afternoon tea. The executive lounge, with its lofty heights and magnificent views is closed so we're in the cafe. Perhaps they don't want us plebs stinking up the privileged spaces reserved for the jet-set but it's more likely that it's closed to save a bit of cash. The luggage above isn't real, it's the furniture and serves as a motif on the ground floor, at least. There was a wedding upstairs so we didn't explore. No idea what deal they got but I expect it was a good one.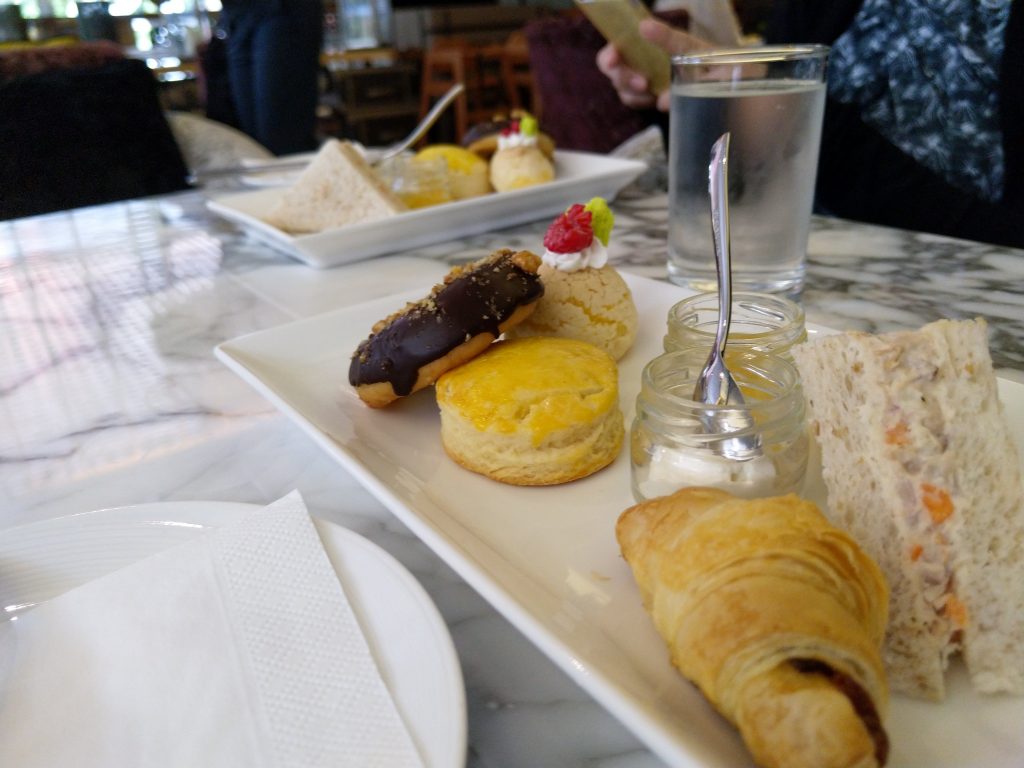 Here is afternoon tea. No buffet but I had two of these. The scone was a bit flat but the other snacks were excellent. After getting stuffed and having about five excellent coffees we headed for the pool.

It's up top and doesn't have a bad view. A lot of hotels have fences or structures around the pool that block the view but one can't complain here. You can see our friends here again. I had planned to have a swim, as I never seem to have time to swim at the pool at my apartment. I thought it would be a languors weekend and even brought an extra book, but there was no time to spare. Five thirty PM was approaching and that was happy hour in the lounge cafe.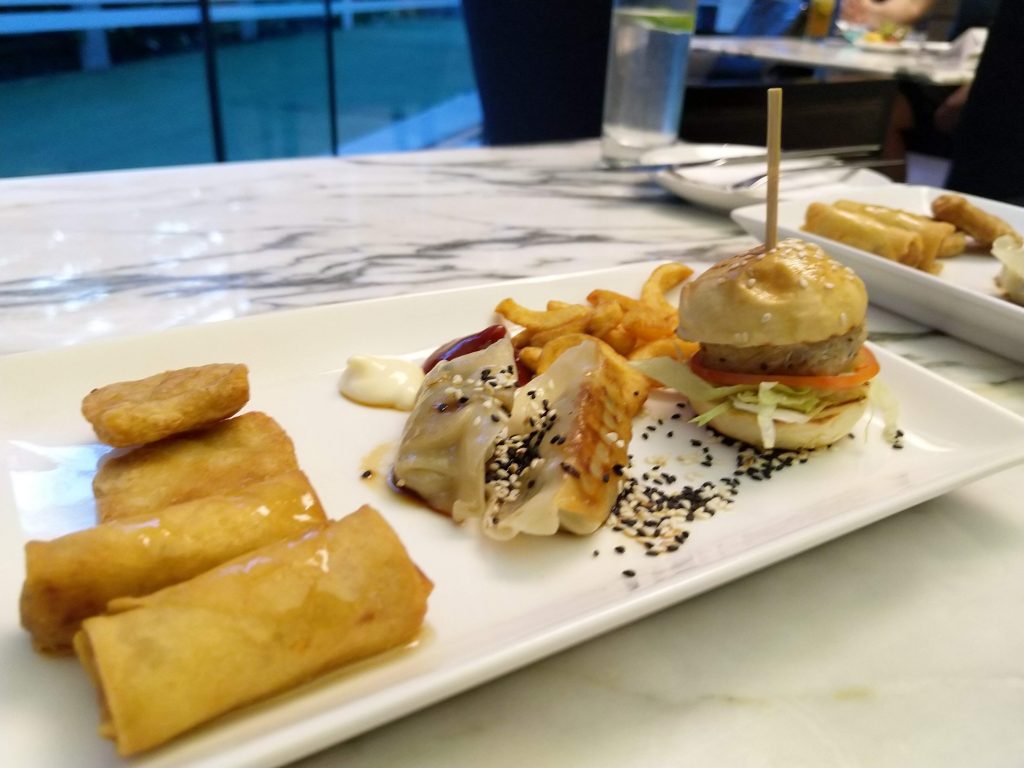 That's right, it's two hours of free-flow and hot snacks. As you can see, the snacks are nicely presented but aren't that flash, but on to the booze!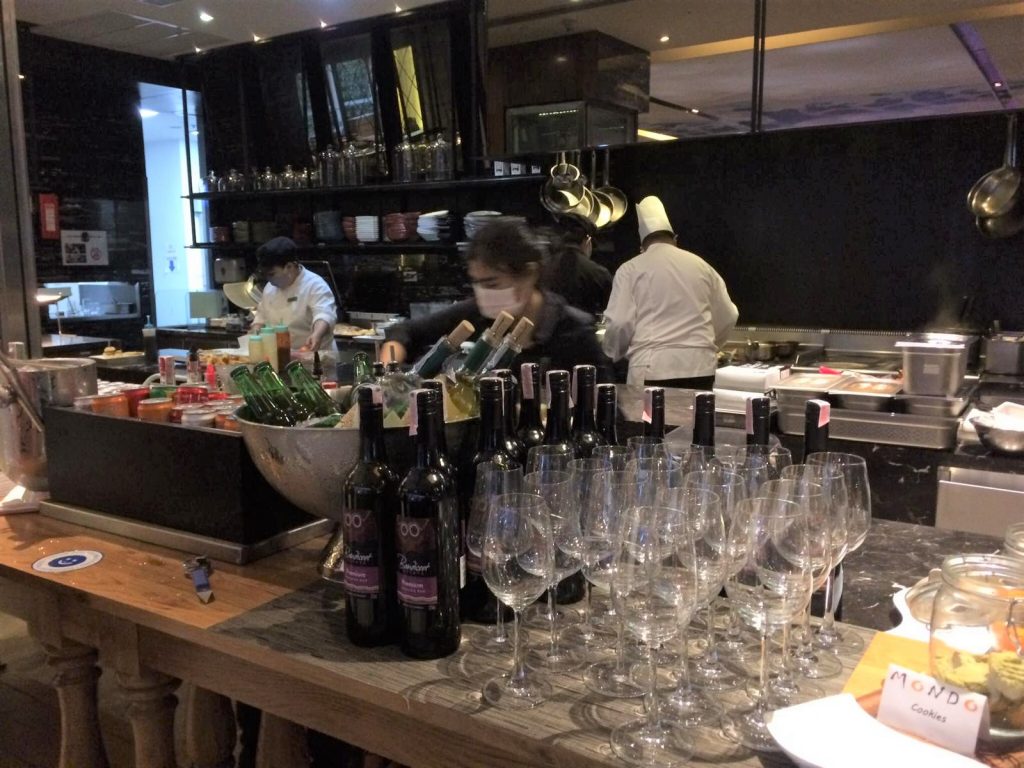 Heineken beer, Australian shiraz and I didn't try the white. There's cocktails too and it's all you can drink for the next two hours, so not a bad deal really. If you can drink a bottle of red (each, ha!) you've probably covered your costs for the accommodation.
Speaking of the accommodation, it's as nice as you'd expect: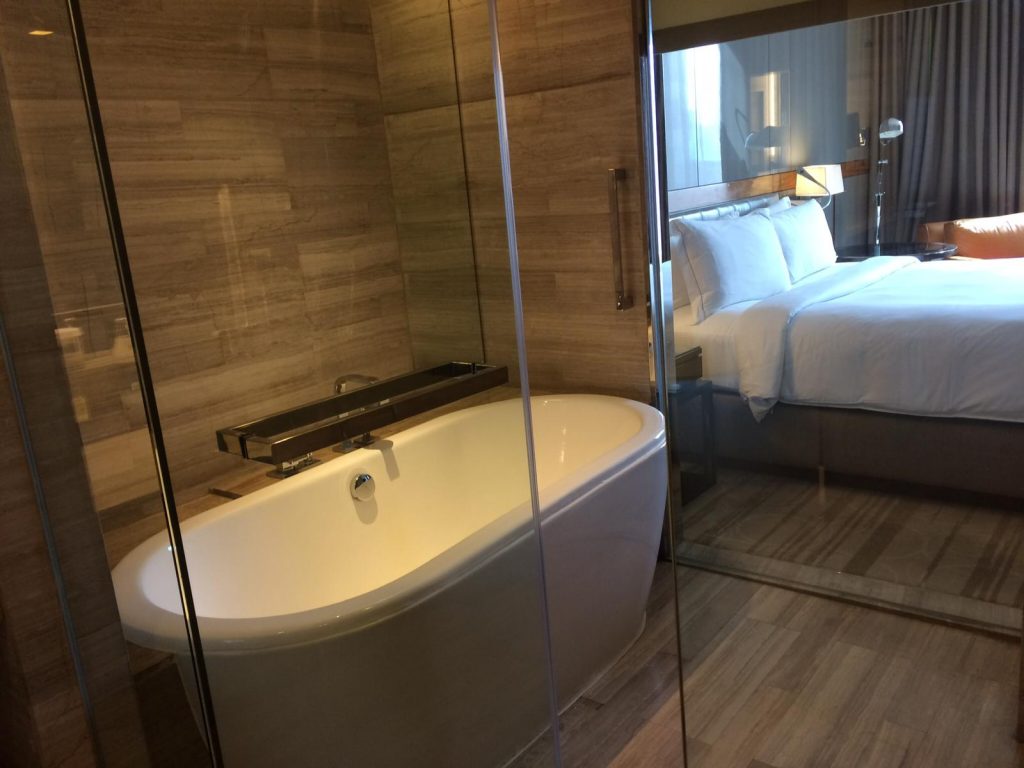 I'm not a big fan of the bathroom with a glass wall. For a long time I thought it was so you could have a shower and keep an eye on your new friend and make sure she doesn't lift your wallet, but it turns out it's so daylight can get in. It does have an electric blind, which puts me in the mind of a James Bond villain, as does the telephone next to the loo. The room scores points for having a separate toilet so your girlfriend doesn't have to watch you pinching one off through the window.
Hotel breakfasts are either a horror or a joy. Many Thai three-star places specialise in boiled ham slices, chopped up cocktail-franks, barely-toasted bread and cold fried eggs. A five-star buffet abounds with delicate pastries, fried mushrooms and lashings of bacon. I'll let you work out which is the horror and which the joy.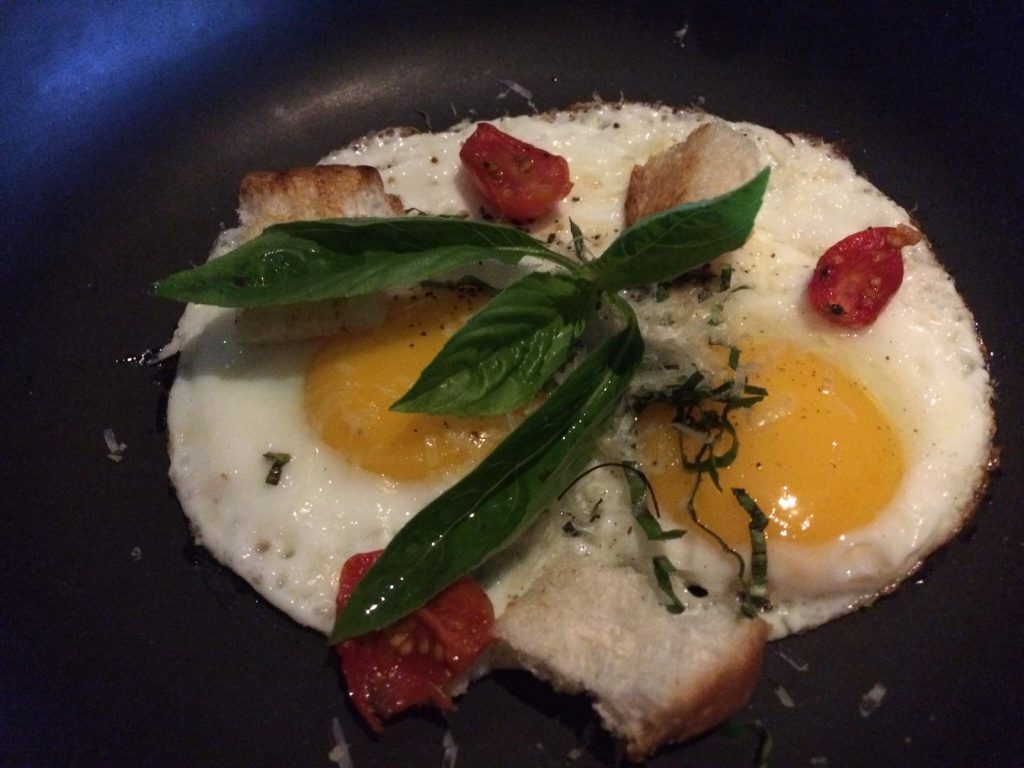 Now, to close up, I noticed a lot of cost-saving measures during my stay and it's clear that a night at the Hilton that pulls more than three figures is different. But it's damn good value for a weekend in town, pretending that you're a fancy-pants for a night and you still get soft sheets, great aircon and a hot bath.