These are dark times in the kingdom of Siam as we live under the brutal fist of martial law.  Rampaging mobs control the streets and looting is widespread.  Food supplies have become unreliable, but I'm sure me and mine will be OK due to my intelligence and foresight to sow my victory garden with enough vegetables to feed an elephant!  Let's have a look around: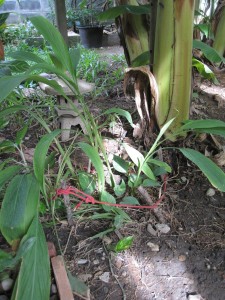 Who's up for a taste of India.  What you can see here is my second turmeric plantation.  The other one is dead or hibernating or something.  I don't know if you've ever cooked with fresh turmeric but if you do, be warned that it tends to stain anything it touches, or even gets close to.  Be prepared to buy some new kitchen equipment, and a new kitchen.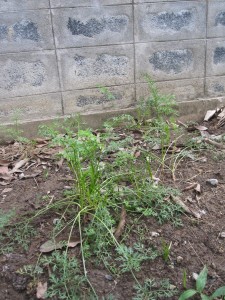 That's the carrot patch.  Regular readers will notice that it's somewhat diminished, but that's to be expected with all the warm weather we've been having.  I'm not worried though, the other day I pulled one up and the root was almost as big as my fingernail.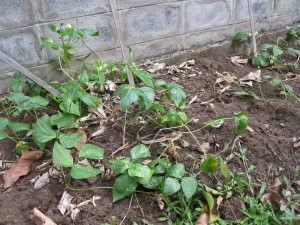 The corn is gone, along with the sunflowers but there's no point keeping this crappy ground fallow.  Those are long beans and I hope the kids like them because they'll be getting little else if things keep going the way they are.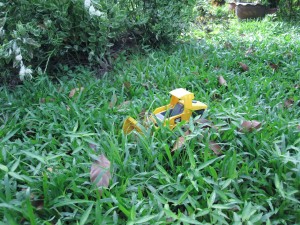 As you can see we've been having some work done but the fucking contractors have gone off to a better paying job.  Typical!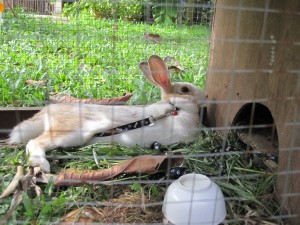 Here you can see Mrs. Rabbit sporting her new collar and lead.  Did you know that rabbits don't like being on the end of a lead?  Well apparently they do.  Even though she completely flips out if I'm holding the end of it, Mrs. Rabbit will try to bite if I try to take it off.


I'll say this though, the banana plantation is going great guns.  Normal advice is to cut down the weaklings to encourage the strong, but this year I thought I'd just let them run riot and see what happened.  What's happened is that we have a cool grove just outside our front door.  It's nice to stand under the mighty leaves while the sun shines though and if you point the hose in the air while watering the garden it sounds like it's raining.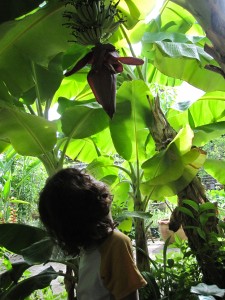 The banana trees are the best bet for providing sustenance though a long winter, and we've already got our first flower.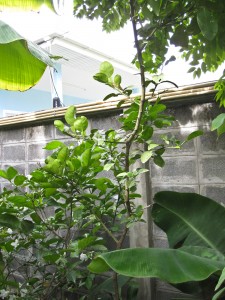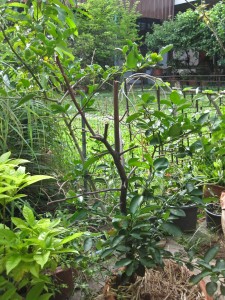 The lime trees are worth a mention, we have two that we inherited and both were in pretty poor shape.  I took one out of its tiny pot and put it in the ground, where it's been competing with it's much bigger neighbour for height.  The other in still in a pot and was pretty much dead.  But with a little love and a lot of water and rabbit shit I've managed to nurse it into a little bush that spikes me with its thorns every time I do the weeding.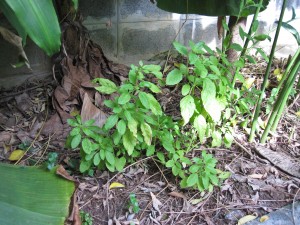 Here's some more basil that's managed to cling onto life.  I'm saving this up so I can make some pesto, but you need a huge amount.  The trouble is that my mother in law seems partial to it and doesn't mind stripping the plants bare so there's a bit of waiting yet.  Not sure how effective pesto will be to get us through the lean times unless I put in some spaghetti trees.
Here's Son #1 washing his ride.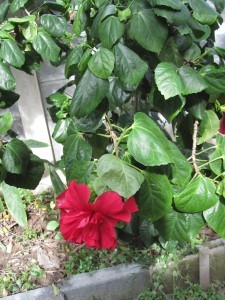 Here's a pretty flower.  Can't eat them though.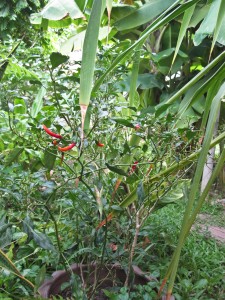 Chilli.  This is the mother in law's bush, ha ha.  It's been dripping with chillies but is essentially a vegetable of last resort in lean times.
Finally, here some photos of the double rainbow we saw yesterday and Son #1's terrified reactions.
We season is fast approaching so expect to see lots of photos of the house flooded, us sitting on the roof and so on.  It is a great time for the garden though as we have long days, hot weather and lots of rain.  Stay tuned for more gardening and political news in the next edition of Farmer Dan.